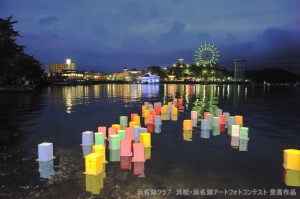 Those who are searching around for an exotic holiday in Japan should never forget to pay visit to the most renowned and big lake located in Japan that is commonly known as Lake Hamanko or Lake Hamana. This eye catching site is located at the pacific coast of the western Shizuoka Prefecture and is actually a fresh water lake that is separated from the rest of the ocean. To inform the readers, Lake Hamanko became the part of the ocean because of an earthquake in year 1948 and the lake's water as a result of being connected to the ocean got salty.
Although Lake Hamanko is quite huge, most of all its attractions are gathered around the Kanzangi Onsen. Kanzanji onsen is an attractive resort situated along the eastern shores of Hamanko. All attractions around the lake are located on a thirty minute walk and tourists can benefit from Flower Go, a comfortable bus for tourists that runs along the sides of the lake and takes the tourists to the various attractions without charging a single penny. The Flower go connects the lake to the Pal Pal amusement park, Kanzanji Temple, Hamamatsu Flower Park, Hanasaki no Yu, and Okusayama ropeway point. This bus runs one time in one hour only on weekends and tourists can catch the bus easily without waiting for long. However, the bus service is also available on weekdays in times of vacations and holiday season.
The kanzanji onsen offer the tourists, exotic and luxurious baths that are located in Hotels and can be accessed upon paying a little fee. Hotel Sago Royal and Hanasaki no Yu offer the most attractive baths around Hamanko. The most popular attraction surrounding the lake is Kanzanji Temple whose grounds extend over to the top of peninsula. The peninsula's tip is heavily forested and offers many appealing and soothing walking tracks with natural backgrounds that are really a treat for eyes. Other notable attractions include Pal Pal Amusement Park that offers a range of rides and activities for families and kids. Roller coaster rides, huge Ferris wheel, big water slides, and variety of swings make the trip to the Hamanko lake extremely fulfilling.
I attached the photo shown one of the most amazing and spiritual festival in Kanzanji. These small floating boats are sending off the spirit of the dead on lanterns floated on the lake.
Kanzanji ropeway is another fascinating tourist site that runs over the inlet. This site is situated between the Okusayama Mountain and the Pal Pal amusement park and a deck that can be accessed for free can be utilized to have a clear view of the lake and the surrounding town. Upon the mountain's peak there is also a museum that tourists can visit by spending a little amount of money. There are also boats that let the tourists to enjoy the natural breathtaking displays while sailing through the water. There are short cruises that run every hour and take the travellers to the far away sides of the lake. These boats can be hired from the Kanzanji temple or from the Hamamatsu flower park that is another worth seeing site. As an icing to the cake, tourists can end their day of travelling through and around the Hamanko Lake by munching on Unagi (famous Japanese eel)